Season eight will be the last season of Brooklyn Nine-Nine.
Before you think, no worries it will be saved and brought back again. Nope, not going to happen as NBC confirms that it will be a wrap for the Nine-Nine at the end of season eight.
And no, this isn't like that time that Fox cancelled the show out of nowhere for it to then be saved by NBC moment later.
NBC has shared that the Brooklyn Nine-Nine storyline will wrap up after Season 8 has aired.
Instagram: @nbcbrooklyn99 announcement
"The way I see it, if this is to be our last ride then let us go out in a blaze of glory."
"I'm so thankful to NBC and Universal Television for allowing us to give these characters and our fans the ending they deserve," Goor said in the latest NBC Brooklyn Nine-Nine post on Instagram.
While this is extremely sad news, what is worse is that this means we've only got 10 episodes left with our favourite members of the Nine-Nine.
But wait there's more bad news, sorry. Due to COVID-19 the pandemic actually halted filming, so we likely won't be back at the 99th until late 2021 at best.
But wait there's some good news.
Your favourite Brooklyn Nine-Nine duo Andy Samberg and Craig Robinson are set to team up in a weed fuelled superhero movie Super High.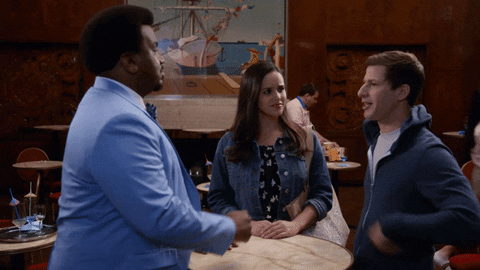 What we know so far about the movie is the characters light up some special weed that results in the smoker obtaining super powers.
Samberg, Robinson, and Common are all producing as well as starring in it, according to a report on Deadline.
Want more great shows to watch – catch the latest Netflix Australia news on SoBinge.com.au.